Bundling business phone service through your cable company may seem like a smart way to streamline your work life. However, if you take a close look at available business calling plans, you'll find cable companies charge more money for fewer features. Additionally, cable providers are commonly found on lists for the "most hated companies in America," with their poor customer support.
An alternative solution, Ooma Office, is leading the charge to provide internet-based phone service that's high in quality, affordable, easy to use, and feature-rich. Just as Netflix challenged cable television, Ooma is challenging cable companies on their telephone service, demonstrating that you can pay less and get more.
To see exactly how Ooma stacks up, we compared Ooma Office to AT&T's business phone, Spectrum for Business, and Comcast Business Phone. Now, let's zoom out to get an overview of how Ooma's business phone service compares to all three cable companies.
Ooma Office vs. Cable Companies: Cost
Because phone service is a recurring expense that scales based upon the size of your staff, a small difference in monthly rates can add up to a big difference in your annual expenses. In a cost comparison between Ooma Office and the business phone services offered by cable companies, Ooma is the clear winner on price.
Ooma Office's monthly cost is just CDN$ 24.95 per user. There are no activation fees or installation fees, and there are no contracts. It really is that easy!
In the chart below, you can see that the monthly rate for Comcast is $29.95 per user. With Spectrum, the promotional rate is $29.99 per user for the first year, and then it jumps to $39.99. For AT&T, the monthly rate starts at $30 for the first line, and additional lines could cost $55 per month. Plus, initial costs to begin phone service through these cable companies range from $29.95 up to $99.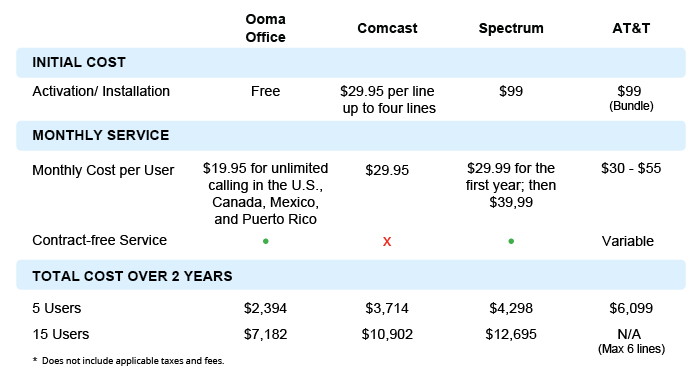 When we calculated the total two-year cost for a business with five users and one with 15 users, we see exactly how much businesses could save by using Ooma Office. In this scenario, businesses using Comcast phone service would pay 52 to 55 percent more. Businesses using Spectrum would pay 77 to 80 percent more, and businesses using AT&T would more than double their phone service costs.
What would your business do with the thousands of dollars saved by using Ooma Office phone service?
Ooma Office vs. Cable Companies: Features
Ooma doesn't just win on cost. Its business phone service is feature-rich, providing tools to limit unwanted calls with call blocking, deploy call automation, and empower staff with remote access via a mobile app.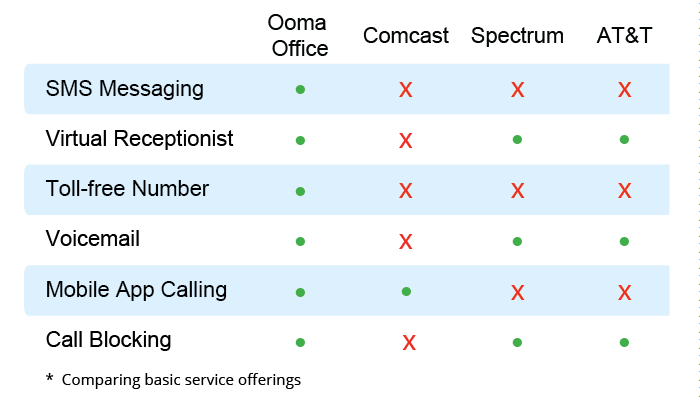 There are some notable differences when comparing Ooma Office's calling features to what's available through cable companies. For example, with Comcast, users have to pay extra for calling essentials such as voicemail and a toll-free number. These are included in Ooma Office's already-low rate.
With Spectrum, the company advertises its MySpectrum app, but it's used for account management rather than a way to make calls. In contrast, the Ooma Office business mobile app provides users with full remote access. This means that when users receive incoming work calls, they can answer via their desk phone or their mobile phone app. With the app, users can transfer calls to co-workers, make outgoing calls on their work line, and more. This provides businesses with centralized connectivity along with full mobility. When using the Ooma Office app, you can avoid the unprofessional explanations of when you'll be available at your work line and when clients should call your personal cell phone.
See how Ooma Office's calling features dramatically changed one business owner's operations:
Ooma Office vs. Cable Companies: Awards
Are you wondering how the phone services compare in terms of usability, reliability, voice quality, and other user metrics?
PC Magazine's Business Choice Awards ranks VoIP phone systems each year. In 2020, Ooma Office was named the #1 phone service. That top score isn't a fluke, either, as Ooma has been #1 for nine years in a row!
Comparatively, this year, Spectrum was ranked as #9 and Comcast was #10. That's the bottom of the pack with only 12 companies reviewed. AT&T wasn't included in 2019, but in 2018, it was #9, Spectrum was #8, and Comcast was #13.
One notable metric is the Net Promoter score, which calculates the rate of users who are likely to recommend the service minus the rate of detractors who wouldn't recommend the service. In 2018, where we have data for all four providers, Ooma had a Net Promoter score of 89 percent, with editors commenting that it's one of the highest they've ever seen. Comcast had a score of 43 percent, Spectrum was 41 percent, and AT&T was 24 percent.
Ooma Office vs. Cable Companies: Conclusion
When comparing Ooma Office to business phone service from AT&T, Spectrum, and Comcast, there's a clear winner on all fronts.
Ooma Office is the lowest-cost solution. When looking at the total two-year cost, businesses using phone service through their cable company could pay 52 to 155 percent more.
Ooma Office also provides a robust set of advanced calling features. In comparison, cable companies may not support the types of mobility tools that businesses need, or they may charge extra fees for features that are included with Ooma Office.
As to service quality, Ooma Office ranks as the #1 business phone in PC Magazine's Business Choice Awards, a title it's held for the past nine years.
Learn more about how Ooma Office can help you sound like a big business at a small business price.
*As of September 2019