Finding a cloud phone system for your business can be confusing. You have to consider how your employees will use the system and sift through a vast array of features available in different platforms. Simply testing out a few different systems could take weeks. Use this Ooma 2022 Buyer's Guide to zero in on your company's phone needs so you can find the perfect phone system.
Why is a cloud phone system perfect for today's workforce?
As of the fall of 2021, over one-third of working hours were spent at home. Traditional phone systems anchored to a single location just aren't flexible enough to give your staff the tools to communicate like a pro regardless of where they're working.
Cloud phone system technology is also called cloud PBX, virtual PBX, hosted VoIP and business VoIP. No matter what you call it, these VoIP phone systems transmit calls over the internet, which makes it easy to add advanced features as they become available through software updates. Another benefit is you don't have to house and maintain the hardware associated with an on-premise traditional phone system.
And, perhaps the best reason, is that VoIP phone service can save your money. With service plans starting at just $19.95 per user per month, Ooma Office can help small businesses that switch from analog phone service. Find out how much your monthly bill will be reduced and how much your taxes and fees will be with Ooma Office Essentials service by checking out the Ooma small business savings calculator.
What are your basic phone needs?
Determine how many users you have, where they are located, and your average call volume.
Many cloud phone providers will offer solutions based on a business scale. For example, Ooma Office is geared toward small businesses, while Ooma Enterprise provides large-scale phone and collaboration systems.
Most business VoIP systems will offer unlimited domestic calling and low-cost international rates. Some services allow you to add on a toll-free number. Ooma Office customers get the benefit of having a toll-free number included as part of their service.
In 2021, Ooma updated its mobile app to make it easier to keep up with multiple calls. Specifically, you can handle two calls at the same time — a handy feature if you're speaking with a co-worker and a customer calls you. In addition, the mobile app includes three-way calling so you can set up quick conversations to collaborate and solve problems. And that's not all. The updated mobile app also has an attended transfer capability. This feature lets you give a colleague a heads-up to explain why you're transferring the call.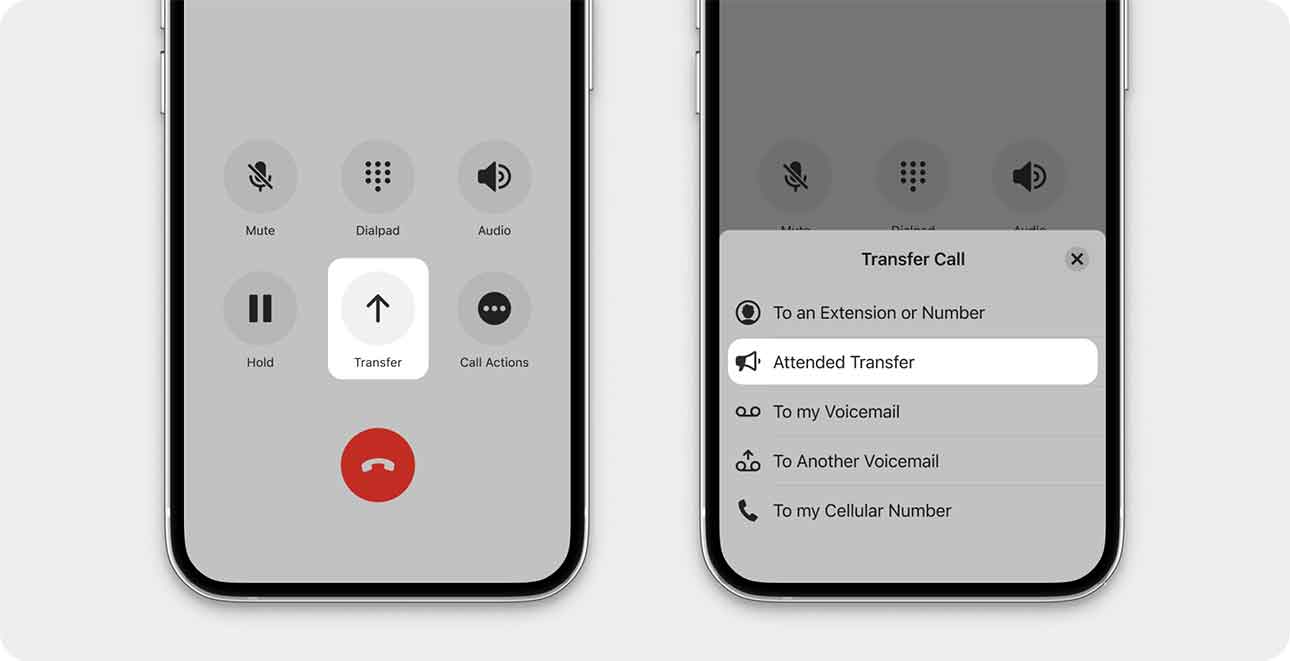 What calling features are available with a cloud PBX?
The scale of your business's calling features should match the size of your user base and the depth of your business apps. When your cloud phone system is the correct size, your business will avoid paying for tools it doesn't need and you'll experience easier deployment.
Small businesses using Ooma Office have access to advanced features at a manageable scale. For example, all users get a virtual receptionist, a conference bridge, voicemail audio to email for a productivity boost, ring groups, 24/7 support and more.
Large businesses that are deploying an enterprise communications solution can use Ooma Enterprise to implement a variety of communication options like a call center platform, multi-cloud application integration, analytics and other enterprise-level telephone features.
For additional productivity, your business may also need video call capabilities. Ooma Office Pro and Ooma Office Pro Plus include videoconferencing so you can share your screen with coworkers and customers. You can invite up to 25 participants with Pro and 100 participants with Pro Plus to a video call, which makes it a great way to hold team meetings.
That said, it is possible to have too much of a good thing. If your employees are getting worn out from too many video calls, use these five research-backed tips to prevent video conference fatigue. Sometimes, the best way to cure video call exhaustion is simple: Switch to an audio call.
Are cloud phone calls reliable for business?
For your phone system to support your business adequately, reliable service is just as important as advanced features.
The behind-the-scenes technology that powers cloud phones can vary significantly between providers. In the 2022 PC Magazine Business Choice Awards, Ooma Office was ranked as the #1 VoIP phone service as well as being the top choice for call quality and likelihood to recommend. In fact, Ooma Office has been voted by PCMag's readers as the best business VoIP phone service for nine years in a row.
VadimGuzhva – stock.adobe.com
What's your budget for communication technology?
On average, IT spending is expected to grow 5.3 percent in 2022, according to Gartner. In addition, spending on communication services is projected to increase 2.6 percent this year.
"Digital transformation can no longer be purchased overnight, and global IT spending projections reflect that. As the world continues to open back up, enterprises will invest in tools that support innovation, anywhere operations and employee productivity and trust," said Gartner in its forecast on IT spending issued in July 2021. When considering the total financial implications of your phone system, it makes sense to invest in the technology that powers your employees to work together and your customers to connect with your business.
The good news is that accessing the rich functionality of a cloud phone system will typically cost less than your traditional phone. With a straightforward price per user and contract-free service, Ooma makes it easy to scale your phone system as your business grows.
Businesses are able to save up to 50 percent on average by using Ooma. You can see how much you can save by using our savings calculator.
Learn how Ooma Office and Ooma Enterprise can help your business make the most of cloud communications.