Vintage cheeseburger phones make a comeback every decade or so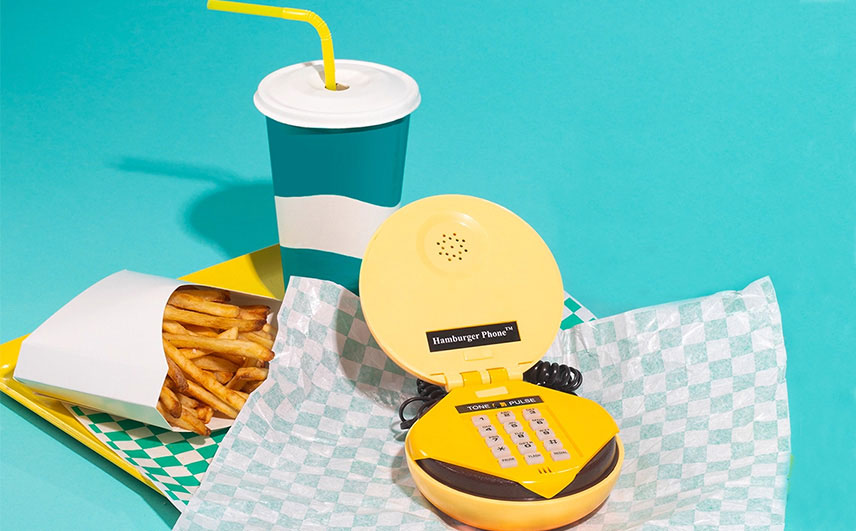 There's something about the allure of the 1970s cheeseburger phone that's hard to explain. Perhaps it's nostalgia for the days when we could feast on burgers, fries and malts and never gain an ounce. Or it reminds us of that friend who had every novelty gadget long before anyone else. Maybe it's because they make us laugh every time we see someone using one. But most likely it's because they're just so dang cute.
Whatever the appeal of the cheeseburger phone is, it has definitely aged well since reaching its peak of popularity in the '80s. Every decade or two it pops back up on the culture scene and sparks interest from a new generation of admirers. Before we explain the latest resurgence, let's step back in time and look at a few iconic moments.
Cheeseburger phone movie cameos
Remember the 1988 comedy, "Coming to America"? African Prince Akeem, played by Eddie Murphy, travels to the U.S. in search of a wife who'll love him for his personality, rather than his wealth and royal status. He and his aide pretend to be poor foreign students and get jobs at a hamburger joint called McDowells. The owner, Cleo McDowell, uses a cheeseburger phone in his office and—spoiler-alert—is the father of a strong-willed, intelligent woman who captivates Akeem.
A hamburger phone plays a pivotal role in the 2007 indie dramedy "Juno." It's reported that screenwriter Diablo Cody and the film's director Jason Reitman insisted the burger phone be used in the movie. Great decision! The juxtaposition of 16-year-old Juno using a silly phone to make a very grown-up call endears Juno to the audience. If you look closely, you can also spy an identical phone in the bedroom of her boyfriend Paulie. Isn't teen-age love sweet?
Cheeseburger phone in toons
Even an adult animated sitcom from the 2010s, "Bob's Burgers," got in on the cheeseburger phone fun. Well, that's kind of expected considering Bob is a second-generation owner of a diner that features a burger of the day. The iconic cheeseburger phone regularly appears in the family's living room.
Cheeseburger phones on TV
Cheeseburger phones are popular across the pond, too. The British TV comedy series "Derry Girls" is about the shenanigans of five teens living in Northern Ireland in the early 1990s during the time of the Troubles. In the series finale, which aired in 2022, Clare Devlin's misuse of the cheeseburger phone causes some communications problems that threaten to divide the tight-knit clan. Tip: If you're unfamiliar with Derry accents, you'll want to turn on closed captioning to catch every word of the brilliant banter.
Cheeseburger dugout phone
As a native St. Louisan, my personal favorite is the "lucky" cheeseburger phone that appeared in the St. Louis Cardinals dugout in May 2023. Cards' starting pitcher Miles Mikolas is credited with coming up with the idea to "Dial a Homer." Here's how the mojo works—each player gets one call per game. They dial the number of the player at bat and then press the "pound" symbol to predict that player will "pound" a home run. I know, this all sounds bizarre, but it makes a certain amount of sense because Busch Stadium has a section called Big Mac Land. If a Cardinal pounds a homer into Big Mac Land, attendees can use their ticket stub to redeem a free Big Mac from McDonalds.
Cheeseburger phones for you
If this post has you salivating like Wimpy for a cheeseburger phone today, you're in luck. Ooma has a burger phone bundle for $129.99 that includes the novelty phone and Ooma Telo Air so you can get free home phone service. All you pay for the service are the applicable monthly taxes and fees. Estimate your savings here.