Have you heard that Ooma's advanced phone service includes robocall blocking?
It's true! Ooma Premier users get free tools to help block robocalls, telemarketers and spammers. Learn how to set up call blocking with Ooma.
Using Call Blocking with your Ooma Phone service.
There's a good reason why call blocking apps have become a leading way to block spam calls. With adaptive technology and databases of millions of robocallers, they've been recommended by industry experts at PC Magazine, Wired, Wall Street Journal and more.
With Ooma's powerful call blocking, users have access to several call blocking categories including anonymous call blocking, custom call blocking, suspected spammer call blocking, known spammer call blocking and contacts-only calling.
These apps are built using powerful technology that combines Ooma's proprietary lists, network assessment algorithms, FTC flags and user reports. Plus, intelligent call classification permits legal robocalls such as school closing alerts or prescription reminders.
Robocall scammers can be sly, trying to stay one step ahead of unsuspecting users. That's why call blocking apps work dynamically to detect unusual activity spikes that could indicate new robocalling schemes. For example, if a new scam caller is offering free vacations, the app can detect an increase in calls per day and move to quickly blacklist the scam.
With this dynamic approach, you have access to up-to-date protection against the changing tactics of robocallers.
Here's what one customer said about Ooma's call blocking:
"I originally bought an Ooma Telo to save money on my monthly home phone, but the blacklisting feature is fantastic. With my old phone service, I was getting several telemarketer calls a day. My wife works from home a lot and it was driving her crazy. Now that we have our Telo, we rarely ever get a telemarketer call. When we do, we just add them to our blacklist. It's now been more than a month since the last telemarketer called our house even though we have the exact same phone number as we did with our old service." -Barbara
Here are the five steps to using call blocking with Ooma.
Step 1: Get Ooma Premier.
Some services charge additional fees for call blocking. However, Ooma Premier subscribers get call blocking included on all Ooma phone lines, across all connected devices.
Ooma Premier includes calling essentials such as unlimited minutes, 911, high-quality audio and caller ID. You also get the powerful tools of a VoIP phone service, such as full access to your home phone via the Ooma mobile app, advanced smart home integration including Google Voice extensions and much more. The monthly fee is just $9.99 (plus applicable taxes), giving you advanced phone service for a very affordable rate.
Ooma Premier phone service also gives you customizable control over the following call blocking categories:
Known spammers identified by Ooma.
Suspected spammers identified by third parties.
Anonymous callers who are hiding their Caller ID information (read more on how to block caller ID.)
Personal blacklists can stop individual phone numbers or callers who have specific words in their Caller ID, such as a political party, charity or college alumni group.
Step 2: Open your Ooma settings.
All Ooma call blocking settings are accessible directly within the Ooma portal. Even though Ooma integrates access to third-party tools, you don't need to download multiple call blocking apps or set up separate accounts.
To get started, log in to My Ooma to access your account settings.
Step 3: Using Call Blocking levels for easy setup.
Within the My Ooma portal, click to the Call Blocking tab. Here, you will see you have five call blocking levels:
These call blocking presets are an easy solution for activating call blocking. Simply choose the call blocking level that meets your needs.
For example, by selecting Call Blocking Level: High, each of Ooma's robocall lists will be activated.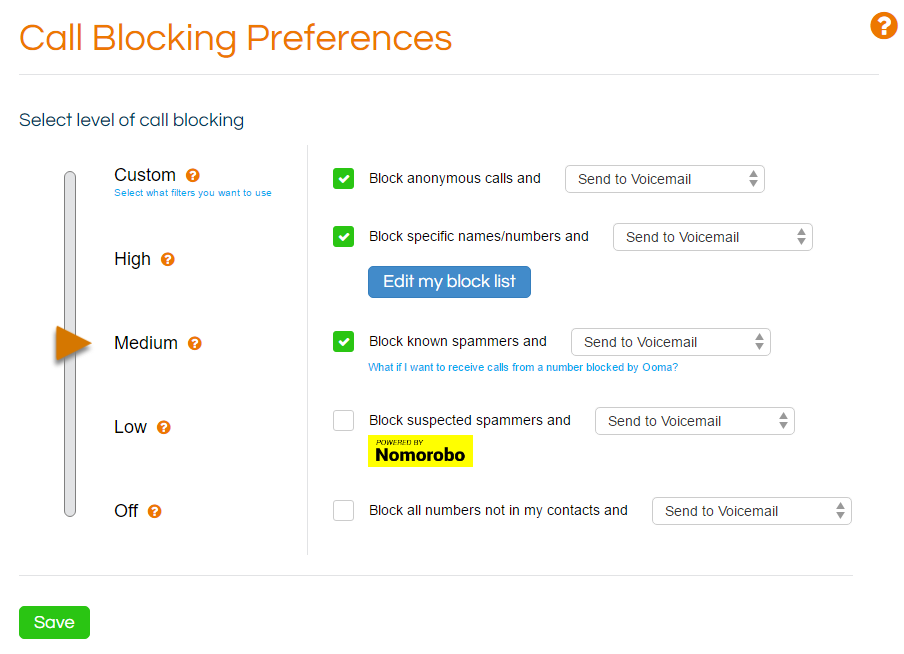 With this predefined call blocking setting, you'll get the strongest level of protection across all areas of Ooma's call blocking categories. As your preferences change, you can always edit your settings to control which types of calls get through.
Remember to save your call blocking settings before continuing.
Step 4: Customizing Call Blocking settings.
For a targeted approach to robocalls, you can choose exactly which categories of call blocking you would like to activate on your Ooma Telo home phone services.
Select Call Blocking Level: Custom to build your preferred call blocking criteria.
Simply add or remove each checkmark to activate or deactivate call blocking categories. Again, remember to save before exiting.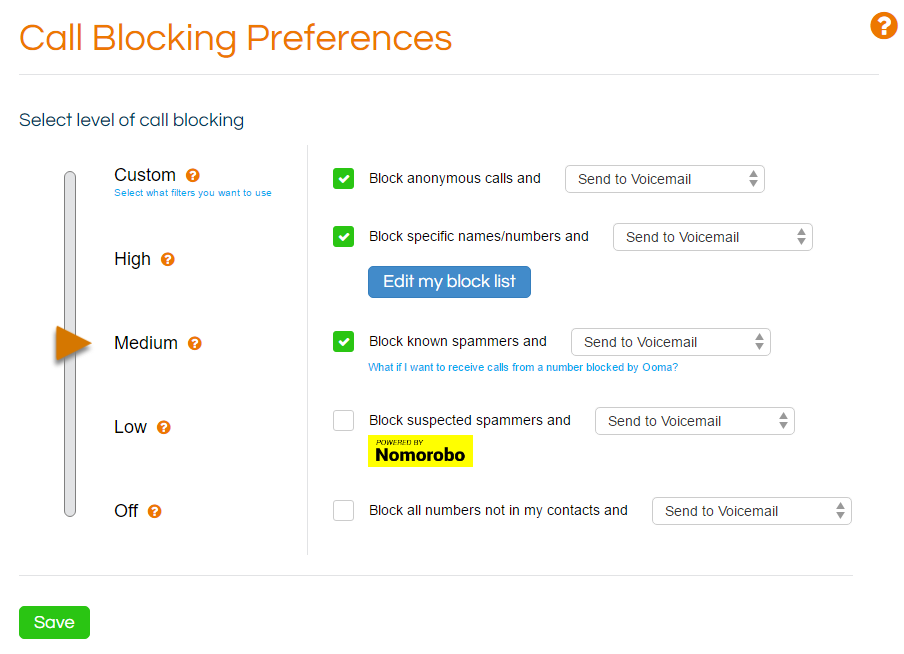 Step 5: Decide what you want Robocallers to encounter.
Not only does Ooma give you the power to control which categories of callers can get through, but you can also decide what the robocallers encounter.
For each call blocking category, select what happens to incoming calls:
Number Disconnected Message: With this option, Ooma will automatically play a message that your phone number has been disconnected. This selection may even help your phone number to be eliminated in some robocall directories.
Automatically Send to Voicemail: Rather than avoiding an entire category of callers, you can send blocked numbers to voicemail. This can help you stop the disruption of a ringing phone while helping you stay in the loop with any voicemail messages.
Continuous Ring: When you use this option, incoming calls will hear the phone ringing for an extended period, followed by a busy signal. This has a two-fold benefit of helping you avoid the disruption of unwanted calls while also wasting the spammer's time.
Call Blocked Message: This approach tells incoming callers that they've been blocked. It can be a one-up on the telemarketer, letting them know you're using phone technology to stay one step ahead of their unwanted calls.
Learn all of the ways that Ooma Premier is a more intelligent phone service.