With customer relationships top of mind for businesses, it's no surprise that 73 percent of consumers point to experience as an important factor in their purchasing decisions. In fact, 65 percent of U.S. consumers find a positive brand experience to be more influential than great advertising.
It's important that no stone is left unturned when it comes to perfecting how your brand interacts with customers. There's one major aspect of the experience that's often overlooked: shipping. From delivery estimates and package tracking to shipping software and returns, shipping facilitates many interactions between you and your customers that can have a serious impact on how consumers perceive your brand.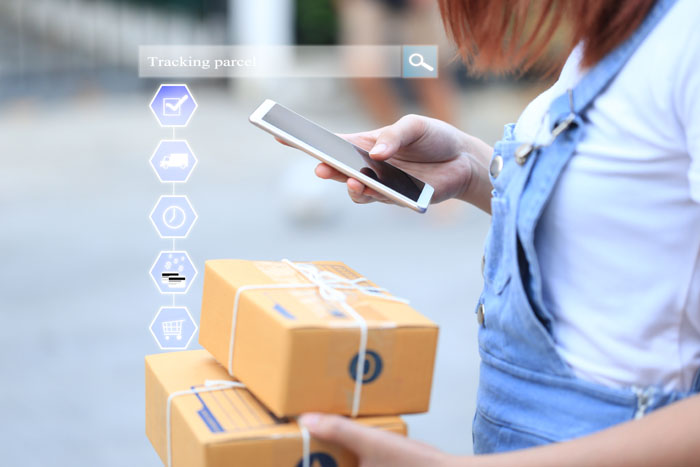 Here's how to use shipping to improve your customer experience and keep customers coming back for more.
Showcase Your Brand in Shipping and Order Confirmation Emails
Did you know that shipping confirmation emails are opened 1.5 times on average? They're a no brainer for fostering customer relationships.
When you send these emails, consider:
Including a link to the order tracking page, since emails with links have two times the click rate than confirmation emails without them.
Adding your brand name in the subject line, since that has a 7 percent increase in unique open rates compared to emails without it.
Offering extra perks. For example, click-to-open rates are 16 percent higher for confirmation emails that include invitations to join loyalty programs.
Shipping confirmation emails are some of the most popular communications between a business and consumer. Test the above tips for yourself to see if they boost your post-purchase customer engagement.
Offer Peace of Mind with Seamless E-commerce Returns
Since 66 percent of shoppers look at a retailer's returns policy before purchasing, it's worth revisiting your policies.
Make sure to include your return policy in a prominent location on your website. You want to ensure potential customers can easily find it, so they feel comfortable making a purchase.
You also need to determine how you'll charge for returns, if at all. Customers who received free shipping on returns increased their purchases over the next two years by 58 to 357 percent.
While free returns may not be in the cards for everyone, consider offering an expedited shipping service, like USPS Priority Mail Express, to deliver your packages. Then, provide a slower service, like USPS Priority Mail, to affordably return unwanted items.
Streamline Your Shipping and Customer Support Tools
When your customers call in with support questions, it's critical that all of your small business tools talk to each other.
Find a shipping solution that provides both a web app and a shipping API, so you have more options to connect your tools. For example, Shippo powers Trello's Package Tracking Power-Up functionality. That means that anyone using the tool can enter a package tracking number to follow a shipment's progress and find historical information right from the Trello card instead of going to the carrier's website to manually enter information. Trello helps retailers keep an eye on their most important packages, even adding a red badge to any package that's not progressing on schedule.
With a shipping API, you can integrate all shipping data with the customer support software you use, so that the CS team can find all of the information it needs in once place. Then, it can find information about the product, time of purchase, shipping service level, tracking information, and more to swiftly answer customer questions. The result? A happy CS team and even happier customers.
About Shippo
Shippo is an easy-to-use shipping software with a web app and API that helps businesses print shipping labels, create return labels, track packages, and much more. You can find more tips for online retailers on Shippo's e-commerce and shipping blog.