How to avoid package theft at your front door.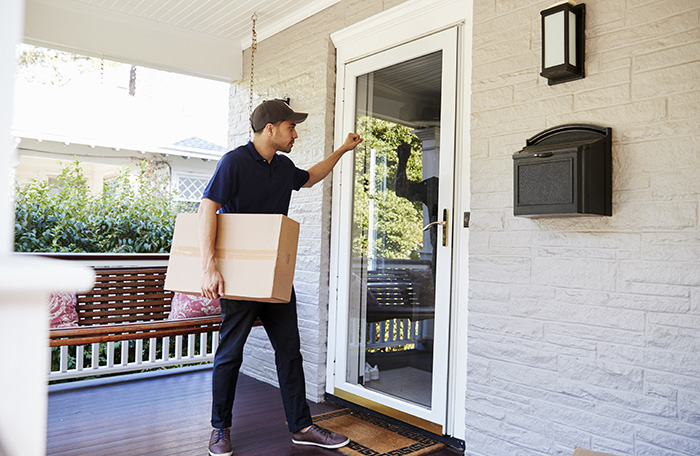 In 2020, millions of people have increased or started ordering delivery of products, groceries and other items. While convenient, the increase in package delivery presents a tempting target for package thieves.
Since March 2020, a Lending Tree survey found that "18% have had a package or delivery stolen since March. Fifty-four percent of consumers reported multiple package thefts in the past 12 months.
As the holiday season arrives, more people are likely to order online to stay safe during the pandemic. According to a Salesforce.com projection, nearly one-third of all U.S. holiday shopping will be done online in 2020. Over $220 billion in online spending is expected, which means millions of package theft opportunities.
The problem of package theft.
In 2020, package theft trends have changed. A survey by LendingTree found that over half of all stolen packages are Amazon packages. In addition, the average loss due to package theft reached $106. Despite these losses, some consumers are unsure how to respond. The LendingTree survey found that "33% of consumers have taken no action to prevent package thefts within the past year."
There are several ways to counter this threat. Pay attention to police reports about new types of theft strategies. For instance, police in Washington State have reported some package thieves dressed as nurses in 2020. Signature confirmation and delivery to a secure location like a locker are also options. 
Despite the attempts to curb package thieves, one easy to implement solution can have the best results for protecting delivered packages: video security.
How video security protects you against package thieves.
Without video security, you could be left with a mysterious gap between receiving the email that your package was delivered and finding no package at your front door. For instance, you might be working from home and in a work meeting when the doorbell rings, so you are unable to accept it right away. In that situation, a video doorbell may be helpful. You can see if there is a package left on your door and pick up the item as soon as you have a chance.
Or you can choose a more standard video camera, installing it somewhere on your porch above your front door. Either way, smart cameras and doorbells with video capabilities can remove the mystery of what happened to your package, even when you can't get away from your desk at the time of delivery. Not only would you see your item being stolen, but you may also get an image of the thief's face or of his or her license plate. This additional information can be valuable in seeking reimbursement from the seller, filing a police claim or seeking insurance.
With the footage from your security camera, you'd have evidence to provide to the police, a video clip to share on social media, and screenshots to pass out to your neighbors. Not only can this documentation be valuable when trying to catch the thief, but it can also help your neighbors be on the lookout if the porch pirate returns.
Using a video doorbell to reduce package theft.
Avoiding package theft with a video doorbell is an innovative way to make theft less likely. If you are unfamiliar with using a video doorbell, use these tips to get started.
Buy a video doorbell that is well regarded.
There are multiple video doorbell products on the market. Rather than recommend a specific product, there are two ways to find a product suited to your home. Start by asking around to your neighbors for suggestions since they are likely to have a similar home in design. If that does not generate any ideas, then check out reviews from a specialized publication like PC Mag's guide to the best video doorbells for 2020.
Install and test the video doorbell with a friend.
After you install the video doorbell, take some time to test it with a friend or family member. Specifically, test how much you can see. Ask your friend to take a step backward or forward while you use the video doorbell so you can see how it works. By testing out the video doorbell in a quick practice conversation, you will be able to find out how it works.
Place a sign next to the video doorbell.
Since video doorbells are not universal, you might want to put up a small sign by your front door explaining how to use it. For instance, tell delivery drivers to speak after pressing the doorbell button. Use the insights you learned during the testing with a friend to create your sign.
Ways to use a video camera to avoid package theft
Security cameras give you another way to package theft and improve home security at the same time. Usually, traditional video cameras do not allow for two-way communication like a video doorbell. Therefore, you will need to take a different approach.
Select a security video camera and install it.
There are a few different requirements to keep in mind when you select a security video camera today. Consider these requirements as you look at the options: 
Video Quality. What quality of video will be recorded by the camera? Lower-quality video images may make it difficult to identify a thief or which package was stolen.
Network Connectivity. Many smart video security cameras have networking capabilities, such as the ability to connect to a Wi-Fi network. PC Mag recommends choosing a security camera with Wi-Fi capability because they are easier to manage.
Inactivity Alerts. Constantly filming an empty front porch can be a waste of time and electricity. To reduce such waste, consider using inactivity alerts.
Tip: Resist the temptation to post photos, video or other information about package theft to social media or other places online. Posting such information publicly may interfere with the police's ability to gather evidence. For more guidance on this topic, check out our article: Using home security camera footage for police reports.
Test your video camera for blind spots.
Video cameras can only show you so much. That's why you may want to test your video camera with a friend to see what the camera will show you. If there are significant blind spots, see if you can adjust the focus or position of the video camera to get a better view.
Five advanced features on security video camera and video doorbell to prevent package theft.
Some video cameras and video doorbells do not have alerts or notifications. As a result, it will be up to you to decide how often you want to check your video recording. If a package goes missing, it would make sense to check the recordings. Check if your device has the following capabilities. Using these features may help you to review video footage only when there is something suspicious.
Motion detection. To optimize power usage and video use, some home security devices have motion detection so that videos are only made when there is movement in the camera's field of vision.
Facial recognition. Motion detection is helpful, but it may still record a lot of irrelevant material (e.g., a squirrel running across your porch). With facial recognition features, your security device has a better chance of detecting people. Some smart video cameras and video doorbells let you program certain people into the software so the camera recognizes friends and family members. Facial recognition technology is sometimes built into the product or offered for an additional fee. 
Sound alerts. Many smart video cameras are designed to integrate with smart home products like the Amazon Alexa and Google Home. Therefore, you can choose to receive sound alerts. In addition, some smart video cameras and door bells include two-way audio so you can speak to a person outside your home.
App notifications. Sometimes known as push alerts, some smart home security devices have the ability to send an alert message to a smartphone app. These alerts can tell you different kinds of information, such as whether the camera has detected motion.
Alert zones. When it comes to monitoring for package theft, some areas may be more important to monitor than others. For example, if packages are typically delivered at your home's front door, you may want to monitor that area more closely. Some security cameras give you the ability to configure "alert zones" so you receive relevant alerts.
What to do if packages still disappear from your front door.
These technologies can help you reduce package theft. Unfortunately, no technology is perfect. If you still suffer a lost package, it is wise to act quickly. File a report with the shipping provider or the company that sent the product. If the shipment is particularly high in cost (e.g., an expensive computer or TV delivery), you may want to check into insurance coverage or file a police report.