6 Wireless VoIP Headset Picks for 2023.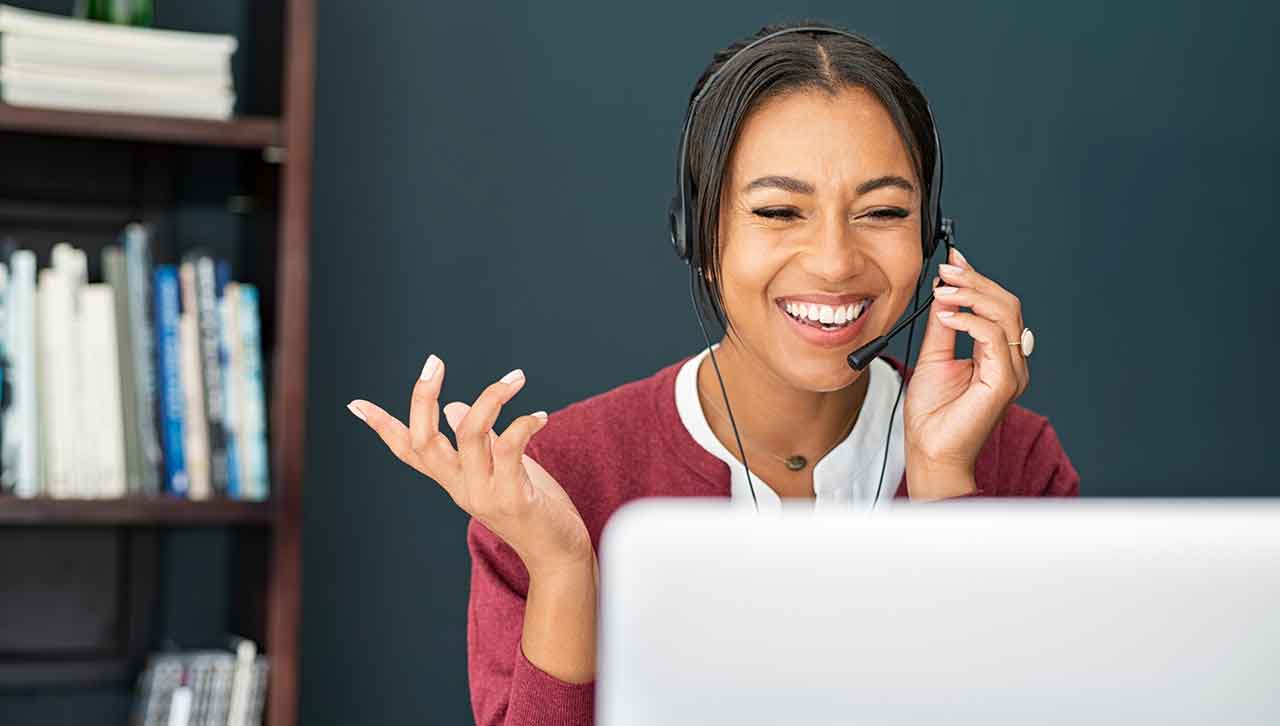 Ever been on the phone with a client and your call keeps dropping? Or the client keeps saying, "I can't really hear you," over and over? Maybe there's an echo that's draining your focus, or one of your colleagues is chatting loudly with someone else right next to you. All these problems are irritating for both parties, disturb your workflow and just seem plain unprofessional.
That's where VoIP phone headsets come into play. VoIP headsets reduce the chances of poor quality calls and prevent you from hearing the distractions around you. But to really boost your productivity, you need to know what types of VoIP headsets to consider. Below, we'll describe what VoIP phone headsets are, what benefits they provide, how to choose the right headphones for you and review our top 6 wireless VoIP headset picks.
What is a VoIP headset?
VoIP phone headsets allow users to communicate using a VoIP phone. As you might expect, these headsets consist of two headphones一one for each ear一and a microphone to talk to the call receiver. Depending on your preference, VoIP headsets can be either wired or wireless, and the hardware connects via mini-cable (3.5mm), USB cable or Bluetooth technology. Keep in mind that USB and mini-cable VoIP headsets require specific ports on your device and come with cords that will keep you physically tied to those devices.
Bluetooth-enabled VoIP headsets, on the other hand, allow users to be hands-free, meaning they can type or even walk around while on the phone. Bluetooth-connected phone headsets are becoming especially popular because of the rise in remote work. Headsets liberate users from their desks, which can improve their mood and enhance their productivity. While at home or a "hotel" desk, it's easy for users to quickly connect to Bluetooth and stay connected all day, no matter whether they are pacing the room, using a standing desk or finding a more comfortable seated position.
Is a USB VoIP headset the same thing?
Just like a VoIP headset, USB VoIP headsets have a set of headphones and a microphone. Where the two differ is in their connection to your device. USB VoIP headsets use a USB jack to plug into a computer, laptop or other device. Of course, this means the device you want to use needs a USB port to support your headset. And often, this means USB VoIP headsets are wired, not allowing you to move freely while on a call.
See also: What is a VoIP Phone?
Why would someone use a VoIP headset?
VoIP headsets bring many advantages to your work, including:
Comfort – The days of hunching over your phone trying to listen and take notes are long gone. Without limiting cords, you're free to find more ideal positions to work in or even move about the room. Having a more comfortable workspace makes an enormous difference in your productivity and back pain on days where you're on the phone for hours at a time.
Flexibility – Going hands-free allows you to type and talk simultaneously, get up and walk around the office, and work on other tasks while still on the phone.
Connectivity – Some Bluetooth phones have extraordinary ranges, meaning you can answer calls while walking to the printer or getting some water. Even if your computer isn't Bluetooth-enabled, there are other ways to connect to your IP phone through 3.5mm connectors or USB cords.
Call Quality – VoIP headsets get rid of background noise which can increase your focus. Plus, call receivers won't have to struggle to hear you.
Evaluating headsets for VoIP phones.
As you browse various VoIP headsets, you should consider the following:
Cost – VoIP headsets range in cost, so think about the features you're interested in beforehand to compare price to value effectively.
Quality – You don't want to buy VoIP headsets that break every few months or years. They should be sturdy enough to support high call volumes and everyday use. In addition, seek out VoIP headsets known for their exceptional audio quality.
Wearability – How does the headset sit on your head? Are the headphones comfortable? Is the mouthpiece movable, or is the microphone built into the headphones? It can be tempting to buy headsets online, but you might want to try them on to make sure they fit correctly. Another option might be to read reviews and see how others describe the fit.
Warranty – Look for headsets that come with a warranty so you can replace them if something goes awry.
Top 6 wireless VoIP headsets.
Since most companies and small businesses are trending toward wireless headsets, let's take a look at some of the best options on the market:
Jabra Engage 75 Mono Wireless Headset
Besides its industry-leading audio quality, the Jabra Engage 75 has an extremely long range, up to 490 feet. In addition, the Jabra Engage 75 has a "busy light" that acts as a do-not-disturb signal and noise canceling headphones to keep you or your employees laser-focused on tasks at hand. The best part is that you'll rarely run out of battery, even if you're talking all day.
Features:
Do-not-disturb light
Noise canceling microphone
Enhanced speakers
13 hours of battery life
Fast charge feature
Hearing protection
Connect up to 5 devices
Intuitive controls (volume, answering/ending calls)
Range of 490 feet
Can be used as a corded headset
Jabra Pro 920 Mono Wireless Headset
If you're looking for crystal clear audio quality, look no further than the Jabra Pro 920. Its digital signal processing limits background noise and echo while still protecting users' hearing. With a range of 300 feet, the Jabra Pro 920 doesn't extend as far as the Jabra Engage 75, but is ideal in a loud office environment with lots of people. The Jabra Pro has 12 hours of battery life, making it optimal for everyday, all-day use.
Features:
Removes background noise
Peak-stop technology for ear protection
Range of 300 feet
First-class sound quality
All-day battery
Can pair with mobile devices, VoIP desk phones or softphones.
Noise canceling microphone
Sennheiser MB 660 UC MS
The Sennheiser MB 660 UC MS has proprietary noise cancellation technology called NoiseGard™, which scans for ambient noise and automatically alters background noise in your headset. Beyond that, the Sennheiser MB 660 has three separate digital microphones that strengthen audio clarity in any environment and can last up to 30 hours without a charge. With its advanced voice detector, the Sennheiser MB 660 produces the most realistic sound quality while allowing users to suppress phone audio when asking a colleague a question or listening to an office announcement.
Features:
Adaptive active noise cancellation
SpeakFocus™ technology
Advanced Own-Voice-Detector
Wind noise reduction
TalkThrough technology
Charge lasts 30 hours
Personalized listening experience with sound effects
Instant pairing
Comes with a charging USB and micro-USB cables for wired connections, if desired
Folds for easy storage
Microsoft LifeChat LX-6000
The Microsoft LifeChat LX-6000 has wideband digital audio to produce stereo quality sound. With noise canceling technology, inline volume and mic controls and a busy light, you and your employees will get to work in no time. If you're a Microsoft shop, the LifeChat LX-6000 is Skype for Business certified, making it easy to plug and play. What's more, the LifeChat LX-6000 is designed for all-day comfort.
Features:
Stereo sound quality
Noise canceling technology
Inline volume and microphone controls
No software – just plug and play
Enhanced comfort
Skype for Business certified
Plantronics CS540
The Plantronics CS540 headset is a durable, high-quality choice. The headset has a noise canceling microphone with DECT technology to curb background noise and make it easier to hear the receiver. The Plantronics CS540 is a monaural headset, meaning it only goes over one ear. This design allows users to still hear other necessary conversations outside of their phone call. This headset has 7 hours of talk time before needing a charge, which is slightly less than others, but has a wide roaming range of 400 feet.
Features:
2-year limited warranty
Can be connected via cable
7 hours of talk time per charge
Range of 400 feet
Over-the-ear, over-the-head, monaural earpiece
Noise canceling, DECT technology
Comfortable
Battery Included
Logitech Wireless Headset H600
The Logitech Wireless Headset H600 comes with a leave-in wireless receiver, so it is always at the ready, and its foam ear cups and adjustable headband make it comfortable to wear all day. Plus, it has a noise canceling microphone and laser-tuned speakers to create the best possible listening frequency. Although the H600 has a shorter wireless range (33 feet), and only a 6-hour rechargeable battery, it is compatible with nearly any operating system and can support Windows Live Messenger, AIM, Skype, Gmail and Yahoo! Messenger.
Features:
Leave-in wireless receiver
Stereo-quality sound
Range of 33 feet
6-hour rechargeable battery
Comfortable design
Compatible with Windows, Mac and common calling applications
Learn more about how Ooma Office can help your business.
Thank you!
An Ooma Office Sales Representative will be in touch shortly.
866-573-0707
Learn more about how Ooma Office can help your business.
Just call 877-621-0515 or click this to CHAT. Or, fill out this form and someone will reach out to you shortly.