What is an IP phone and how does it work?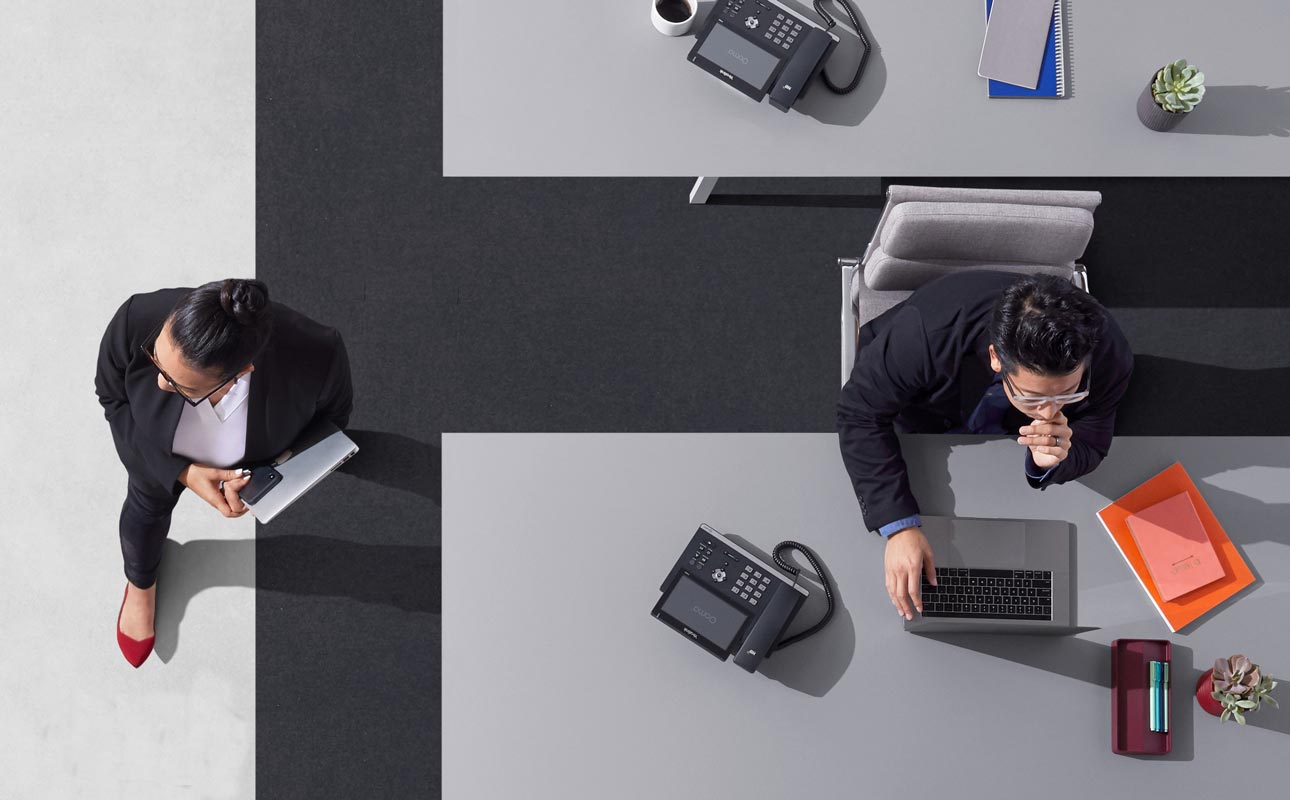 In this new age of cloud technology, it's hard to feel like your data is secure—it seems like there is a news story about a new breach every other day. It's particularly nerve-wracking to think about how much time you spend sharing sensitive information about your company, potential sales or clients over the phone.
That's where IP phones shine. Rather than using a public Wi-Fi network to disseminate calls, IP phones connect to a private internet or local area network, giving you power and control over your data. In this post, we'll explain more about what an IP phone is, how it works, what its advantages are, and offer our seven best suggestions for your next IP phone.
What is an IP phone and how does it work?
IP phones consist of a hard or soft IP phone, a VoIP branch exchange and a VoIP service provider or Local Area Network. IP phones work by compressing voice signals from the phone and converting them into digital signals. These digital signals then travel through the VoIP phone system and into a private or local area network. On the receiving end, files are decompressed and changed back into normal-sounding audio for the listener.
What is the difference between an IP phone and a landline phone?
An IP phone system leverages IP (internet protocol) technology and is used within a single location or various locations on a private data network. IP phones are often used in larger office buildings, manufacturing plants or even small businesses. Rather than connecting to traditional copper wires and requiring an expensive phone service plan, IP phones work like VoIP phones, leveraging existing internet connections to place and receive calls. Because VoIP phones use the internet, customers switching from traditional landlines can often cut their phone bills in half. Once you switch to a VoIP phone system, your old landline phones will no longer work unless you use analog telephone adaptors.
What is the difference between an IP phone and a Wi-Fi phone?
IP phone systems use internet protocol (IP) technology to make calls within private data networks. By completing calls over a private network, IP phones are considered more secure and stable. However, Wi-Fi phones rely on the public internet (like Wi-Fi hotspots) to transmit voice signals. Because these networks are public, Wi-Fi phone users can't regulate service quality, leading to echoing, dropped calls, and more. For further reading see also VoIP for cell phones.
Why would someone use an IP phone?
Can be used anywhere – IP phones will work in any location where they can be accessed by the internet. For global companies, this means employees can connect to their phones even while traveling abroad.Same look and feel – IP phones are similar to their analog counterparts, just with potentially more features. As a result, users won't need extensive training to get accustomed to IP phones.Cost-savings – Since IP phones use the internet to make and receive calls, you can save money by getting rid of your landline and instead utilize your existing private internet networks.Unlimited simultaneous calls – Cloud phone systems allow for multiple calls to take place at once, meaning your services will no longer be limited by the number of rollover lines, physical phones or people available to answer the calls.
Top 8 IP phones
Selecting the right IP phone can decrease your phone bill, enhance call quality, and upgrade your customers' experience. Of course, the trick is to pick the right one. Below, we list our top seven IP phone suggestions for businesses large and small.
Grandstream GXP2170
Enterprise users looking for an IP phone that can support high call volumes and has extensive functionality should look at the GXP2170. The GXP2170 comes with a relatively large color-display LCD screen, 6 SIP accounts and 12 line keys. In addition, this phone has 48 digital speed dial and BLF keys and can link to four GXP2200 EXT modules to add 160 more. In terms of setup, the GXP2170 has integrated PoE and dual Gigabit ports, which enable the fastest connection speeds. This phone also can connect to the Grandstream UCM series IP PBX appliance to access 1-touch call recording, zero-configuration provisioning and other advanced features.
Features:
5-way conferencing
Supports up to 4 cascaded GXP2200EXT Modules
48 customizable BLF and fast dial keys
5 programmable context-sensitive soft keys
12 dual-color line keys with 6 SIP accounts
Dual-switched auto-sensing 10/100/1000 Mbps network ports
Bluetooth for syncing headsets with contact books, calendars and call transferring
Full-duplex speakerphone
PoE-enabled to power the device and give it a network connection
EHS-compatible
Automated provisioning
USB ports
TLS and SRTP security encryption
Yealink SIP-T19P
The SIP-T19P E2 is an excellent entry-level IP phone. With a 132 x 64-pixel, 5-line display LCD screen, it lets users see incoming calls at a glance. The SIP-T19P E2 also comes with 3-way conferencing, can support various headsets and is wall mountable. If needed, the SIP-T19P E2 has integrated PoE and dual 10/100 Mbps network ports to support extended network use. Aside from that, the SIP-T19P E2 can handle VoIP accounts IPv6 and SRTP/HTTPS/TLS, VLAN and QoS.
Features:
1 SIP account
3-way conferencing
Black and white LCD screen
Dual-port 100M Ethernet
Optional integrated PoE
Wall mountable
Supports headsets
Polycom VVX 301
The Polycom VVX 301 is another fantastic entry-level phone meant for businesses with moderate to low call volume. While it's not ideal for high-volume situations, the Polycom VVX 301's audio quality is exceedingly clear, thanks to Polycom® HD Voice™. What's more, the VVX 301 has Zero Touch provisioning, meaning that new users can be deployed or upgraded in a snap. The VVX 301 can also be integrated with third-party web-based productivity tools or other Polycom expansion modules with open APIs. Like many models, the VVX 301 comes with 3-way audio conferencing, 1-touch speed dial, remote missed call notifications and do-not-disturb functionality.
Features:
3-way conference
Do not disturb
HD Voice™ technology
SIP supported
6 lines
Remote missed call notification
1-touch speed dial
Call transfer, hold, divert, pickup, waiting
Encrypted configuration files
AC-powered with adapter
Yealink T21P E2
Often used in small healthcare practices, restaurants and other small businesses, the Yealink SIP-T21P E2 has unparalleled speaker quality and voice clarity. The Yealink can handle up to 4 calls simultaneously and has a large LCD screen with a backlight to make managing multiple calls seamless. Additionally, this phone has Power over Ethernet support, meaning you connect an Ethernet cable to its 2-port Fast Ethernet switch.
Features:
3-way conference
Blind transfer (1-step transfer)
Supervise transfer (2-step transfer)
Do not disturb
Message waiting indicator
Extension dialing
Call waiting caller ID
Grandstream GXV 3275
The Grandstream GXV 3275 IP phone has an enormous 7-inch screen with 6 lines meant for 6-way conferencing. The Grandstream is built for Android, and is similar to an Android tablet, with a built-in web browser, video capabilities and HD audio. The GXV 3275 also gives users access to the Google Play store to download applications that further enhance their communication experience. This phone also has dual Gigabit ports, PoE/PoE+, and integrated Wi-Fi (802.11b/g/n) for unparalleled network flexibility.
Features:
6 lines and SIP accounts
6-way conferencing
Built-in camera
Access to the Google Play store
Bluetooth-enabled
Mini HDMI outputs
7-inch screen
HD audio
Built-in PoE/PoE+
Dual-switched auto-sensing 10/100/1000 Mbps network ports
Cisco 7900 IP Series
The Cisco 7900 IP series is a popular IP phone because of its optimized connectivity, color displays, dynamic soft keys and optional expansion modules. Because these phones are part of the Cisco family, users get access to Cisco's calling, meeting, messaging and customer care services. The 7900 series enables users to customize their phones to show web content, company directories and even stock quotes. Overall, the 7900 series has several phones in its portfolio, each with features to improve worker productivity.
Features:
Wireless LAN voice options
Optimized connectivity
Color display
Dynamic soft keys
Optional expansion modules
Different call line and conferencing options, depending on the model you choose
Vtech VSP736
The Vtech VSP736 is a versatile IP phone that supports 6 SIP lines and 10 simultaneous calls. The VSP736 has 16 keys with 32 programmable functions, including message waiting alerts, speakerphone, hold and mute, enabling you and your employees to streamline your calling experience. Additionally, the VSP736 has built-in DECT 6.0, allowing users to pair with various wireless headsets. The VSP736 also has a microSD card in case users need to record their calls. The best part is that the VSP736 has a 3-year warranty, helping you feel secure in your purchase.
Features:
6 SIP lines
16 keys
32 programmable functions
3-year warranty
GigE and dual Ethernet ports
Optional PoE support
AC adapter
MicroSD card slot
Cisco SPA 303
The Cisco SPA 303 is a basic, cost-effective IP phone option for small businesses or home offices. This phone is easy to install, with remote provisioning, point-and-click configuration and menu-driven UI. The SPA 303 has 3 voice lines and comes with typical IP phone features, such as speakerphone, hold music, call waiting, 3-way call conferencing, blind and attended call transfer and more. Another unique feature of the SPA 303 is integrating with other Cisco products and modules to add even more interoperability.
Features:
3 voice lines
3-way call conferencing
Do not disturb
Blind and attended transfer
Call park/unpark
Menu-driven interface
Line status indication
Dual switched Ethernet ports
Web-based remote provisioning
Learn more about how Ooma Office can help your business.
Thank you!
An Ooma Office Sales Representative will be in touch shortly.
866-573-0707
Learn more about how Ooma Office can help your business.
Just call 877-621-0515 or click this to CHAT. Or, fill out this form and someone will reach out to you shortly.