What Are the Pros and Cons of VoIP, Landline, and Cellular Phone Service?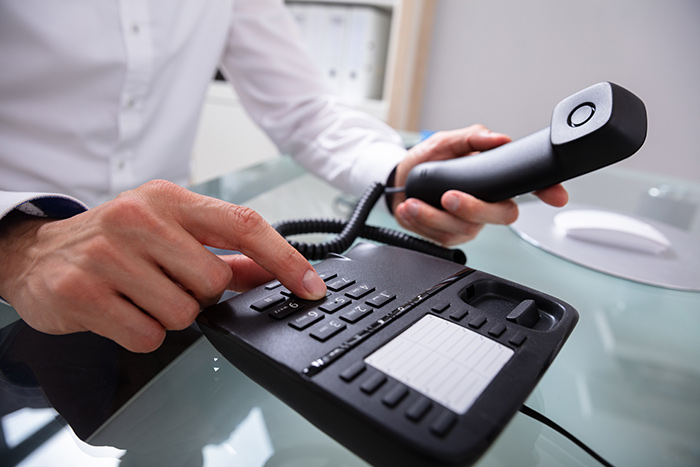 The phone technologies of today give consumers more choices than ever. When deciding which type of phone provider to use, it can be helpful to understand the three different approaches to phone services.
Landline Phone Service
Traditional landline phone service used to be the standard in nearly all homes, and this type of hard-wired phone service has been around for more than a century.
Andrey Popov –
stock.adobe.com
The only hardware that's needed is a handset, which can be either corded or cordless. In both cases, audio is transmitted through the phone jack on your wall and into the phone cables outside.
Increasingly, households are cutting the cord on their hard-wired home phone service in favor of calling technology that's more flexible. Currently, only 46 percent of homes have landline phones. In fact, the shift in consumer preferences combined with the aging infrastructure of copper phone lines may make traditional phone lines obsolete in the near future.
There's a longstanding home phone debate about landlines and if they still provide enough value to warrant their cost. Consider the pros and cons of landline phone service.
Pros
Familiarity: For many households, landline phones are a consistent technology that's been used for decades. This preference for familiarity may be especially strong for elderly relatives or for slow tech adopters who want to keep the same phone number and handset.
Accurate 911 service: Placing a 911 call from a landline is reliable and accurate. When the national emergency 911 system was established, landlines were the only phone option. Only 11 percent of the population has a full understanding of the location problems with 911 calls placed from a cell phone; yet, geolocation failure rates in some locations are as high as 90 percent.
Cons
Limited availability: Landline phone service is only available when you're at home.
High Cost: Landline phone service is typically priced high, and plans are needed for both local calls and long distance.
Multiple phone services: About 86 percent of landline users are also paying for cell phone service, which means two phone numbers, two voicemails, and two bills.
Few features: The aging technology allows for very few add-ons, and those that are available typically cost extra.
Cost: On average, the cost of landline phone service is $42 per month. This means that a year of service would be $544, including the purchase of a basic cordless phone for $40.
Cellular Phone Service
Cellular phone calls are transmitted from your mobile device to a nearby cell tower. With widespread coverage of cell towers, users can access their telephone service from nearly anywhere.
customdesigner –
stock.adobe.com
Cellular phone service is widely popular because of its mobility and accessibility. Connection options include 3G, 4G, 4G LTE, and 5G, and coverage can vary by provider. You can search for the cellular dead zones in your area to understand the accessibility and speed that you can access wirelessly from your mobile device. Consider the pros and cons of cellular phone service.
Pros
Anywhere access: Cell phones allow you to use your mobile device to make and receive telephone calls no matter where you are.
Multimedia communication: The phone number you use for cellular voice calls is also the same number that you can use to send SMS text messages, helping to unify communications across multiple platforms.
Cons
911 service limitations: As comedian John Oliver has explained, apps such as Uber and Domino's may be more accurate at finding a cell phone caller than 911 emergency services.The ability to locate emergency calls made from cell phones can be as low as 10 percent in some locations. In addition, 911 calls placed from cell phones can be routed to national calling centers.Time is crucial during an emergency, and 911 service problems can be exasperated during widespread emergency events. The New York Times reported that during Hurricane Harvey in Texas, call volume more than quadrupled, and "about one call in seven was misrouted by cell towers during the storm."
No digital integration: Even though cellular phone service is used on high-tech smartphones, there are very few ways that voice calls can be integrated with your other apps or devices. For example, cellular phone service doesn't have native integration with smart assistants such as Amazon Alexa, Siri, or Google Assistant.
Cost: Cellular plans can vary widely based upon options and providers. An average cell phone plan has a monthly fee of about $60. The average smartphone device costs $567. That totals $1,287 for one year of service including a phone purchase.
VoIP Phone Service
VoIP stands for "voice over internet protocol," which is a technical way to say that phone calls are transmitted over your internet connection. Voice over IP is a flexible technology that can be used as a home phone line or with your smartphone's internet connection to make mobile VoIP calls.
At home, VoIP can provide the same calling experience as a landline. However, the behind-the-scenes technology means that monthly rates are much lower, and there are more features available.
Ooma Telo is a major provider of residential VoIP service, offering connectivity for both home phones and mobile devices via a free calling app. VoIP service can vary widely between providers since the underlying technology is software-based. To help you understand how VoIP compares with landlines and cellular phone service, review the pros and cons of VoIP with Ooma Telo.
Pros
Low cost: Ooma's contract-free phone service includes unlimited local and long-distance calls. Even Ooma's top-tier Ooma Premier service with its wide set of calling features costs 76 percent less than the average landline plan.
Features: Ooma Basic service includes a wide set of calling features, such as smart home integration with Amazon Alexa, caller ID, remote voicemail, and online call logs. The feature-rich Ooma Premier service expands access to include Instant Second Line, the ability to block spam phone calls, and more.
HD audio: Ooma's call quality is among the best in the industry, providing automated configuration tools that respond dynamically to your network.
International rates: Ooma offers affordable international calls that start at just pennies per minute. There are also unlimited international calling plans that can cost as little at $9.99 per month for unlimited access to more than 60 countries.
Familiar Calling Experience: Users who are comfortable with landline phones can find that using Ooma is very similar. Ooma allows you to keep the same number by porting your phone number to Ooma. Additionally, Ooma supports both analog handsets and IP phones, so you have the option to keep the same device.
Cons
Hardware needed: Different VoIP providers will have different hardware requirements. With Ooma, there's a one-time purchase of the Ooma Telo to set up your phone service.
Cost: The average cost of VoIP phone service varies widely based upon the provider and service options. Ooma Basic is free, and there's a nominal charge of $4 to $7 per month for the taxes required in your zip code. The top-tier service, Ooma Premier, costs only $9.99 per month to access the latest calling technology and a full set of advanced features. Total cost for one year of service, including upfront purchase of the Telo, a basic cordless phone, and Ooma Premier service, is only $319.78.
Learn more about why Ooma phone service is a great choice.
Thank you!
By subscribing to Ooma's Blog, you can expect to receive insightful emails about latest updates, helpful tips, and useful tricks.
Call us at: 866-573-0707 for any other inquiries
Unlock the full potential of your Ooma experience: Tips and Insights from the Ooma Blog