When your phone is constantly ringing from unwanted robocalls, it's hard to remember that you're not alone in your frustrations. In fact, millions of Americans across the country are facing a similar stream of phone calls.
However, research has revealed that the distribution of scam calls isn't even. Find out how the rate of robocalls where you live compares to other places in the country.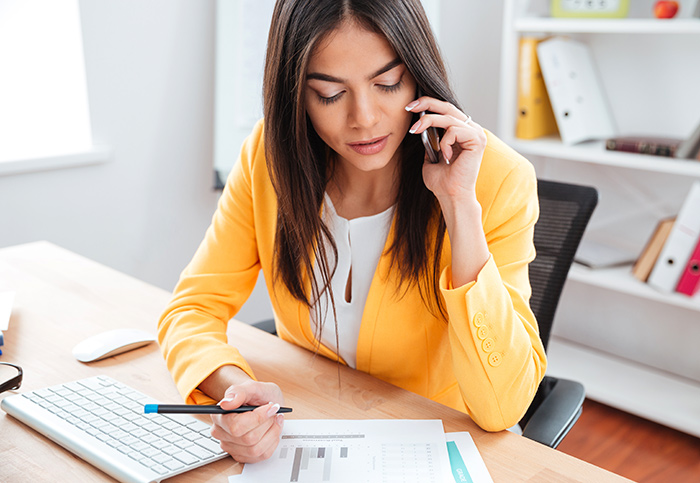 Which States Get the Most Robocalls?
The data from YouMail reveals that so far in 2019, there have been 24.7 billion robocalls, and the southeastern United States is frequently targeted. In fact, someone living in the southeast could receive four to five times more robocalls than those in other states.
For example, someone living in Maine receives an average of 1.34 robocalls per week, and for someone living in Louisiana, the average is 5.6 robocalls per week.
Average Robocalls Per Person in One Week (2019)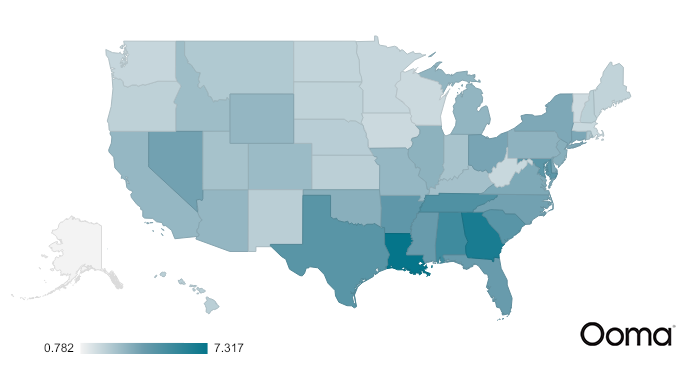 Where Are Robocalls Getting Worse?
Unfortunately, it's bad news for people who wish the spam phone calls would stop. There's no state where the number of robocalls has decreased.
Between 2016 and 2019, there was a 180 percent increase in the rate of robocalls in the United States.
The state that had the biggest increase was Maine, with an average of 282 percent more calls in 2019 compared to 2016. That's nearly triple! The state that saw the slowest growth was Georgia, where residents have an average of twice as many robocalls as they did in 2016.
Increase of Robocalls Between 2016 and 2019
Notably, despite rapid robocall expansion in Maine and slow growth in Georgia, Maine still has a relatively low rate of robocalls while the number of robocalls in Georgia is still very high.
Which Cities Are Being Hit the Hardest?
Even within states, some cities' residents face more frequent calls. For example, the average number of robocalls each week in Tennessee is 4.9 per person, but in Memphis, it's 8.6.
Cities That Receive the Most Robocalls
Many of these cities are in states that have overall high robocall averages. The one notable difference is that Nevada ranks 12th in the country while Las Vegas is 5th among all cities for robocalls.
How Can You Fight Back Against Unwanted Calls?
In response to consumer complaints about robocalls, state attorneys general are attempting to pressure the Federal Communications Commission (FCC) and the Federal Trade Commission (FTC) to take action regarding illegal robocalls. However, many consumers are taking matters into their own hands. Telephone add-ons can now help you block robocalls before your phone rings.
With Ooma Premier phone service, call-blocking service is built-in as one of the many included features.
Ooma's call-blocking app can be customized to your needs. There are five categories of call types and four different actions for your Ooma phone system to automatically take. For example, you can choose to send anonymous calls directly to voicemail, and known spammers can receive a message that your phone number has been disconnected.
Ooma's call lists include known spammers, suspected spammers, anonymous calls, personal block lists, and the ability to block all numbers that aren't in your contacts list. The actions you can take for each category include playing a message that your number is disconnected, playing a message that the call has been blocked, having the caller hear a continuous ring, or sending the caller directly to your voicemail.
With these call-blocking tools at your fingertips, you can take back your phone service. Here's what one customer had to say:
"I originally bought an Ooma Telo to save money on my monthly home phone, but the blacklisting feature is fantastic. With my old phone service, I was getting several telemarketer calls a day. My wife works from home a lot and it was driving her crazy. Now that we have our Telo, we rarely ever get a telemarketer call. When we do, we just add them to our blacklist. It's now been more than a month since the last telemarketer called our house even though we have the exact same phone number as we did with our old service."
Use the Ooma savings calculator to find out how much you can save on phone service.
Learn more about Caller ID Spoofing here.