National Emma M. Nutt Day: an important day in communication history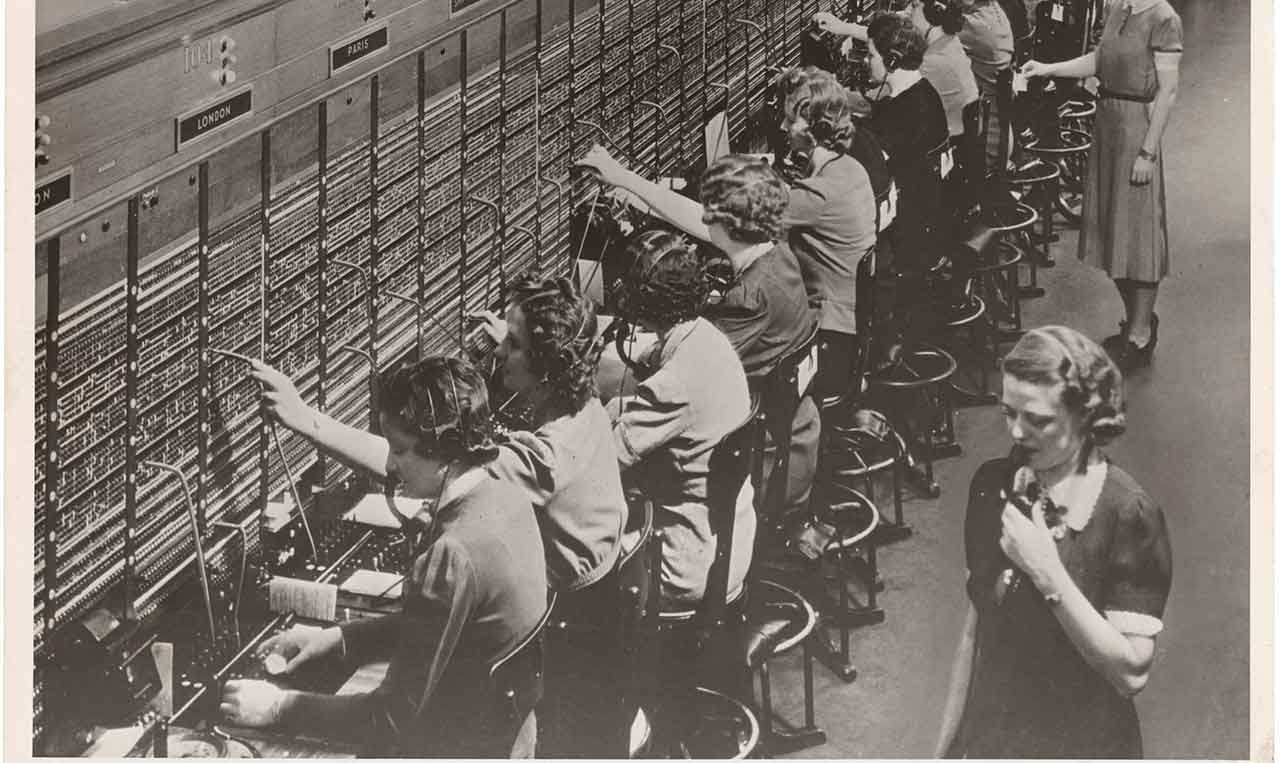 It's time to ring in Emma M. Nutt Day—September 1! We're honoring Nutt, the first female telephone operator. Emma Nutt's contribution to the telephone industry has been recognized by the National Museum of American History, which organized a one-day special event honoring her in 1984, called "All Alone by the Telephone."
Who was Emma Nutt?
Emma Nutt was 18 years old and worked in a telegraph office when she was hired by Alexander Graham Bell, the inventor of the telephone, as an operator in Boston and started work on September 1, 1878. She wasn't alone in her telephone work for long; her sister Stella was hired as a telephone operator shortly afterward. By the end of the 1880s, it is estimated that nearly all telephone operators were women. Some companies preferred to hire women because it was thought they were better with customers than the teenage boys first hired to do the job. Nutt was successful in her position as a telephone operator and worked in the industry for more than 30 years.
Nutt's position expected 54 hours of work per week and she earned a monthly salary of $10. In 1878, the average monthly rent for a 4-room tenement was $5.55, a bushel of potatoes cost 98 cents, and a quarter got you either a dozen eggs or a pound of butter.
The rise of telephone operators.
In time, female telephone operators gained status and even a certain amount of power. They received additional training to help them better understand accents and foreign dialects. They led strikes for better pay and worked during the First World War in the Signal Corps Female Telephone Operators Unit. By 1930, there were approximately 235,000 female telephone operators in the United States. However, there were still barriers to entry. According to the New England Historical Society, a woman seeking a job as a telephone operator had to be between the ages of 17 and 26 and be tall enough to use the telephone switchboard. At that time, Jewish and African American women could not get jobs in the industry. In addition, female telephone operators could lose their jobs if they married.
In the beginning days of the telephone, you would make a phone call to a telephone exchange, talk to the operator, and ask them to connect you to a specific person. To complete the call, the telephone operator would connect cables. Long-distance calls required several connections.
What happened to telephone operators?
Over time, the number of telephone operator jobs has dwindled in the U.S. due to technology and automation. The decline began in the 1930s when it became possible to directly dial phone numbers. By 1940, there were fewer than 200,000 phone operators in the U.S.
In 1984, there were approximately 40,000 telephone operators at AT&T. By 1996, AT&T had only 8,000 telephone operators across the U.S. As of May 2022, the U.S. Bureau of Labor Statistics estimated that there were 4,030 telephone operators in the U.S. and they earned a mean annual wage of $41,590.
Ways to celebrate Emma Nutt Day.
There are many ways to celebrate Emma Nutt Day, depending on your interests. Here are a few ideas.
Change how you make phone calls for a day.

Female telephone operators became successful partially because it was thought they were more reliable and polite than teenage boys. Honor Emma Nutt Day by taking extra time to listen and be extra courteous on your phone calls.

Celebrate women in the communications industry. Emma Nutt is not the only woman who made a significant contribution to communications. For instance, the Women in Cable Telecommunications organization has a Walk of Fame event that honors women like Jennifer Andreoli-Fang, a noted technologist who earned a Ph.D. and more than 80 patents, and Dana Filip Crandall, who held several executive positions in the industry.

Enjoy music about phone calls.

In 2022 Ooma created a National Telephone Day playlist on Spotify with 13 songs referencing phone calls. If you don't have a Spotify account, check out some of these classics:

Elvis Presley and several other musicians recorded versions of "Memphis, Tennessee" about the challenge of making a phone call.

Jim Croce's 1972 hit "Operator (That's Not the Way It Feels)" is a ballad about a man seeking assistance to call an old lover who moved to L.A. with his best friend.

Steely Dan released "Rikki Don't Lose that Number" in 1974. And in 1977 the Electro Light Orchestra made the Top 10 in the U.S., U.K. and number 1 in Canada with "Telephone Line."

The 1981 Tommy Tutone hit, "867-5309 (Jenny)," caused some people who had the same phone number to change their numbers because they kept getting phone calls.

Stevie Wonder's "I Just Called to Say I Love You" (1984) is his best-selling single. Follow Stevie's lead and call your boo on September 1.

Reba McEntire's 1994 song "Why Haven't I Heard from You" places the blame on a lying date, not the abundance of phone options and features.

Since 2000, there have been several phone themed songs like Soulja Boy's "Kiss Me Thru the Phone" (2008), Maroon 5's "Payphone" (2012), Carly Rae Jepsen's "Call Me Maybe" (2012), Adele's "Hello" (released in 2015), and Lady Gaga recorded "Telephone" (2010) with Beyonce.

Visit a telecommunications museum.

Seriously, there are more than you'd expect. Here is just a sampling:

Connections Museum in Seattle

The Frank H. Woods Telephone Museum in Lincoln, Nebraska

The Jefferson Barracks Telephone Museum in St. Louis, Missouri

The Edison Museum in Beaumont, Texas

The Georgia Rural Telephone Museum in Leslie, Georgia

The Maitland Telephone Museum in Maitland, Florida

The New Hampshire Telephone Museum in Warner, New Hampshire

The Telephone Museum in Lexington, Massachusetts

Ask the women in your family members about their careers.

How much do you know about the work and careers of women in your life? To honor Emma Nutt Day, consider calling your mother, sister, aunt or other family member and asking about their careers.

Share your thoughts on Emma Nutt Day on social media.

Your friends might not have heard of Emma Nutt's accomplishments. Spread the word; consider posting about Emma Nutt on September 1 using the hashtag #emmanuttday. Consider writing a short historical summary in your post, or make it easy on yourself and share a link to this post.

Learn about other significant women in science and technology.

For example, British mathematician Ada Lovelace (1815-1852) saw the potential for computers beyond math. There is also Marie Curie (1867-1934), a physicist and chemist who was the first woman to win a Nobel Prize and only woman to win two. Other impressive women include Jane Goodall (a noted primate scientist who won numerous awards), Katherine Johnson (a mathematician and NASA's first human computer), and Kalpana Chawla (a NASA astronaut who was the first woman of Indian heritage to travel in space).

Wish Lily Tomlin a happy birthday.

Coincidentally, September 1 is the birthday of the comedian who made the catch line "One Ringy Dingy" famous by portraying Ernestine, a snippy telephone operator, on Rowan & Martin's Laugh-In and Saturday Night Live.
Discover the latest phone technology.
Telephone technology has come a long way since the time of Alexander Graham Bell. Today, you can make low-cost international calls through the internet, take your home phone on the go with our mobile app and much more with Ooma.
Photo credit: Wikimedia Commons