For many businesses, a ringing phone means new clients, new appointments, or new projects.
However, an overwhelmed receptionist may dread this positive business growth. Even if he or she started the day deftly juggling incoming calls, a spike in call volume could quickly turn into a chaotic scramble.
The difference in the two scenarios typically isn't a reflection on the employee's skills, and it's instead determined by the call management tools he or she has available.
In a boost for small businesses, Ooma Office service has just released its newest calling feature: Extension Monitoring. With this advanced feature, users have full command over system-wide communications.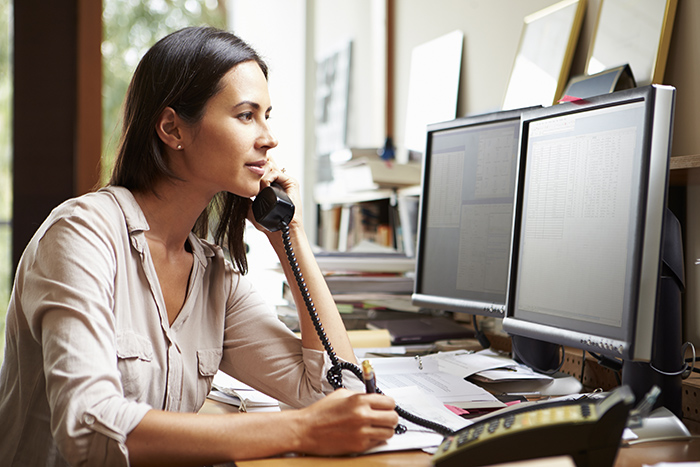 What Is Ooma's Extension Monitoring?
Ooma's Extension Monitoring feature allows power users to manage a large number of phone calls effortlessly. Here's how it works.
First, it provides users with immediate information on the status of other users within the system. Each button on your phone that's configured with Extension Monitoring can reveal the status of another user via the indicator light.
When the light is steady red, the monitored extension is on an active phone call.
When the light is flashing red, there's an incoming call to the monitored extension.
A steady green light indicates that the monitored extension isn't in an active call.
With Extension Monitoring, it's easy to understand the activity of users across your phone system.
Second, the feature allows users who monitor other extensions to take actions. A user who sees the quickly flashing light on the extension monitoring button can intervene and answer incoming calls for the monitored extension. Users can also use Extension Monitoring to transfer a call, initiate a 3-way call, and speed dial an extension with a single press of a button.
The Extension Monitoring feature is accessible on several Ooma-compatible office phones, including the Yealink SIP-T21P, Yealink SIP-T23G IP Phone, Yealink T27G IP Phone, and Yealink EXP20 Expansion Module.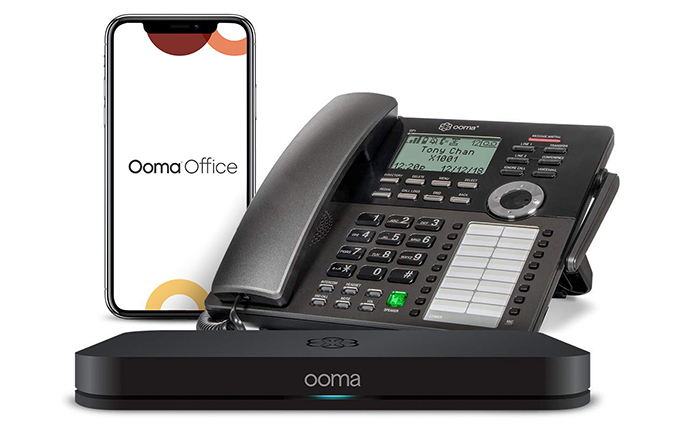 How Can Extension Monitoring Transform Business Communications?
Here are seven ways that implementing Ooma's Extension Monitoring feature can impact your business operations.
1. Streamline Your Communications Portal
Office administrators can keep a pulse on business activity without being burdened by information overload or complex processes.
Without Extension Monitoring, administrators are flying blind when managing calls. Their best bet for knowing if a staff member is on the phone is to walk down the hallway and look.
Using the feature transforms small business phone systems from a basic access point into a portal of information. Administrators can manage multiple lines easily, improve call routing, and know instantly which users are free and which are on the phone.
2. Have Better Customer Conversations
Your incoming caller may have bypassed your virtual receptionist, opting for personalized assistance rather than being connected instantly via the auto attendant.
Extension Monitoring helps your receptionist improve the quality and personalization of these phone calls by providing the information on which employees are free and which are busy. This ultimately improves the level of customer service that your business can provide.
For example, after telling the caller that the desired employee is occupied, the caller then can make an informed decision if he or she would prefer to speak to another available employee, leave a message, or be placed on hold.
There's no runaround and no confusion.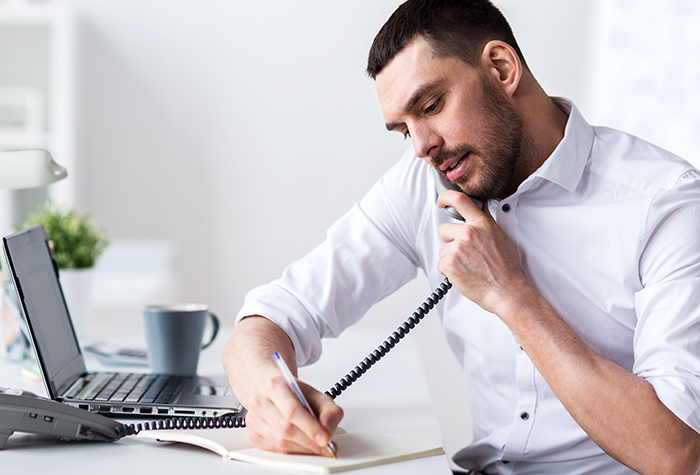 3. Help Power Users Become More Powerful
We've previously talked about how the right phone gear can help turn your receptionist into a call management ninja. Powerful desk phones provide instant access to features such as one-touch transfers, which can help prevent bottlenecks. They also have a built-in capacity for advanced communication features, such as Extension Monitoring.
When you pair Extension Monitoring with robust phone hardware, your business' power users can boost their capacity to manage communications better.
4. Improve Employee Collaboration
Extension Monitoring allows users to pitch in to help answer incoming calls that are ringing on other extensions. This functionality can help your team work more cohesively.
For example, a receptionist can jump in to answer a call while someone is in a meeting. A backup receptionist can help answer calls when the call volume spikes. A coworker can help cover for a lunch break.
Rather than a user having to respond to a phone need by jumping up and rushing over to a neighbor's desk, Extension Monitoring lets users collaborate by simply pressing a button.
5. Improve Operations Oversight
The Extension Monitoring feature isn't just for receptionists. Managers and executives are using the tool to understand their teams better. By monitoring phone activity through the Ooma Office call log, users can understand call volume and patterns better, which can inform business decisions.
For example, a company's support department may see a high call volume in the afternoons when there's a slowdown in other areas. This knowledge can help businesses redistribute resources where and when they're needed the most.
6. Increase Your ROI on Your Phone System
One of the best aspects of Extension Monitoring is that the calling feature is automatically included for all customers. Businesses don't need to upgrade their phone plan or pay additional fees.
Ooma Office is already a great deal, with some businesses saving about $2,000 per person over three years. Our savings calculator will reveal how much you could save, and because there's no added cost for Extension Monitoring, you're getting even more value for the same low monthly price of CDN$ 24.95 per user.
With more features at your fingertips, your business will improve the ROI on its business phone service.
7. Leverage Big Business Tools on a Small Business Scale
Ooma's Extension Monitoring allows businesses of all sizes to have the same powerful functionality that's typically only available to big businesses using PBX systems.
Small businesses don't have to be held back by sub-par functionality or shell out big bucks for tools to meet their needs. Ooma Office provides a powerful communication platform that's feature-rich, contract-free, and affordable. Jumpstart your communications with a cloud-based phone system that includes powerful call management tools, caller ID, toll-free numbers, conference calling, location flexibility with the Ooma business mobile phone app, modern essentials such as call blocking to fight unwanted calls, voicemail audio to email, and much more.
Are you ready to get started? Learn more about how Ooma Office can help your business thrive, and watch a demo to see it in action.